A great plant based meal packed with flavor.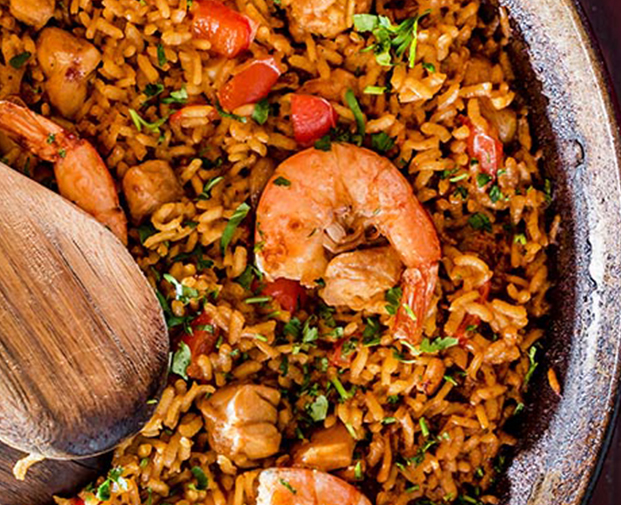 Prawns/Shrimp.
---
If using frozen, thaw before cooking then peel and devein.
Mussels.
---
I used half-shell mussels. If using fresh mussels, tap gently on the kitchen counter. If they close, they are fresh, if they don't, discard them. Similarly, if the mussels don't open once cooked, discard them.
Calamari
---
I used calamari tubes but squid tentacles or calamari rings will also work.
---
2 FOOD WITH PURPOSE SPANISH PAELLA RICE pouches
---
Onion
---
Garlic
---
Smoked Paprika
---
Chopped tomatoes. You could use other vegetables like red pepper and peas too.
---
Chicken/Fish stock. Seafood broth can also be used.
---
Salt and black pepper.
---
Lemon wedges.
---
Parsley.
---
Other seafood options: Clams and chunks of white fish will also work.
Prepare the seafood: Peel and devein the prawns/shrimp then pat the shrimp and calamari dry with paper towels. Place a large, deep pan (approximately 11-12inches/30cm) over medium high heat. Drizzle the calamari and shrimp with olive oil and season with salt then sear in the hot pan until a little color develops and the seafood is cooked fully. It's important to dry the seafood well as this will help them brown in the hot pan. This step is also optional, preferably searing the seafood first to ensure they don't release too much moisture into the paella. Remove the seafood from the pan and set aside.

Start the Paella: In the same pan, heat the olive oil. Add the onion and garlic and cook until translucent and fragrant. Pour in the tomatoes and cook for a few minutes until most of the liquid has evaporated. Add the FOOD WITH PURPOSE SPANISH PAELLA RICE pouches.

Fold Together: Pour in the stock to taste or preference and reduce the heat, partially cover and allow to simmer for 3 minute or until most of the liquid has been absorbed and the rice is warm. Add the squid, calamari and shrimp, tucking it into the rice. Try not to disturb the bottom layer of rice. Cover again then simmer at very low heat for another 3 minutes until the seafood and rice are fully warm to preference.

Serve with lemon wedges and chopped parsley.