Rustic Tortellini & Italian Sausage
The perfect comfort meal full of flavor.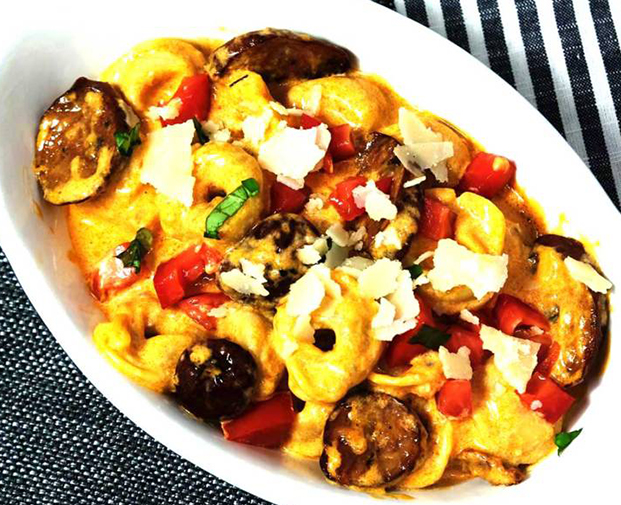 2 cups Food with Purpose Tortellini Italian Herbs
---
¾ lb Italian sausage links
---
2 tbsp Olive oil
---
1 Onion, diced
---
1 Clove garlic, minced
---
1 (14.5 ounce) can Italian-style diced tomatoes, undrained
---
1 tbsp Dried basil leaves
---
¼ tsp Dried oregano
---
¼ tsp Salt
---
⅛ tsp Ground black pepper
---
½ cup Heavy cream
---
1 tbsp Butter
---
Dash crushed red pepper flakes (optional)
---
Shredded Parmesan cheese to taste
Cook 2 cups of tortellini following instruction on the package.

While tortellini is cooking, in a saucepan sauté onion and garlic in olive oil over medium heat.

Add slice sausage, cook and stir over medium heat until meat is fully cooked and no longer pink.

Add tomatoes, basil, oregano, salt and pepper. Bring to boil and continue to boil 5 minutes or until most of the liquid evaporates. Remove from heat; stir in whipping cream and butter. Reduce heat and simmer 5 more minutes

Add drained tortellini to the sauce in the saucepan, stir gently and serve.

Sprinkle parmesan cheese and pepper flakes if desired.