Creamy Chicken Tortellini Soup
A hearty soup that compliments any meal.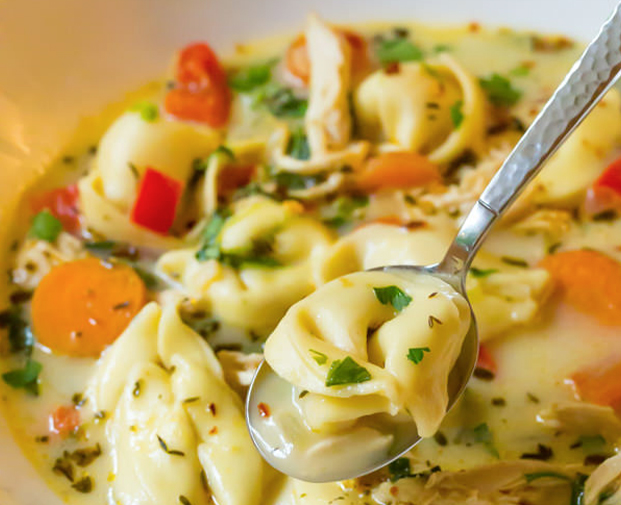 1 cup Food with Purpose Tortellini Italian Herbs
---
½ lb Chicken breast, boneless skinless
---
¼ cup Heavy cream
---
1 cup Chopped carrots
---
1 Garlic clove
---
1 tbsp Parsley, fresh
---
½ Red bell pepper
---
½ tbsp Chopped broccoli
---
½ Sweet onion, medium
---
1 ½ tsp Thyme, dried
---
4 tbsp Olive oil
---
6 cups Chicken broth
---
Salt and pepper to taste
Place a large sauce pot over medium heat. Add the olive oil and chopped onions. Sauté for 3 minutes to soften. Then add the chopped bell pepper, carrots, and garlic. Sauté another 3 minutes.

Add whole raw chicken breasts, chicken broth, dried thyme, crushed red pepper, 1 teaspoon salt, and 1/4 teaspoon ground black pepper to the pot. Bring to a simmer. Lower the heat a little and simmer 15 minutes, until the chicken in cooked through. Remove the chicken and place on a cutting board.

Turn the heat back to medium. With the broth still simmering, stir in the Food With Purpose Tortellini. Cut the chicken to desired size and place back in the soup.

Once the tortellini are cooked through, about 14 minutes, turn off the heat. Stir in heavy cream, spinach, and parsley. Salt and pepper to taste. Let it rest for 5 minutes before serving.